Online Catalog > LV INDUSTRIAL CABLES > U 1000 R2V TELECOMMANDE
U 1000 R2V TELECOMMANDE: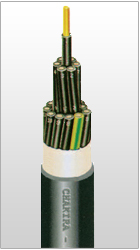 This cable is aimed for industrial installations, rising columns of a building public lighting LV. This cable should not be used in a more than 2 months per year flooded area.
Constitution

Conductor
: Bare copper or tinned

Insulation
: XLPE

Filler
: PVC or Assembly tape

Sheath
: Black PVC
Caractéristiques

Rated voltage
: 1000 V

Conductor
:
Solid copper classe 1
Stranded copper classe 2

Max. permissible temperature
: 85° C Operating / 250° C Short-circuit

Conductors identification
: Black conductors marked with white numeral 1,2,..., n-1 with G/Y conductor in the end.