منتوجاتنا
> U1000 SVOV TELECOMMANDE < LV INDUSTRIAL CABLES
U1000 SVOV TELECOMMANDE: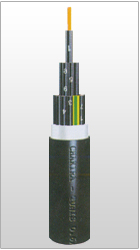 Theses cables are used for remote control systems and for the installations instrumentation submitted to high vibrations.
Constitution

Conductor
: Stranded copper

Insulation
: PVC

Filler
: PVC

Sheath
: PVC
Caractéristiques

Rated voltage
: 1000 V

Conductor
: Flexible copper class 5

Max. permissible temperature
: 70°C Operating T° / 150°C Short-circuit T°

Conductors identification
: Black conductors marked with white numeral 1,2,..., n-1 with G/Y conductor in the end.